Time to party – Christmas party ball gown
A sexy black satin and lace ball gown for Kate to wear to a ball at Woodbury Park. Back when we were allowed to go out and party to our heart's delight, I helped a client achieve her self-designed Christmas party ball gown for a Christmas ball held at nearby Woodbury Park Golf and Country club.
I knew Kate through her husband Ross, and she came to me armed with pictures of dresses she had found with details she liked.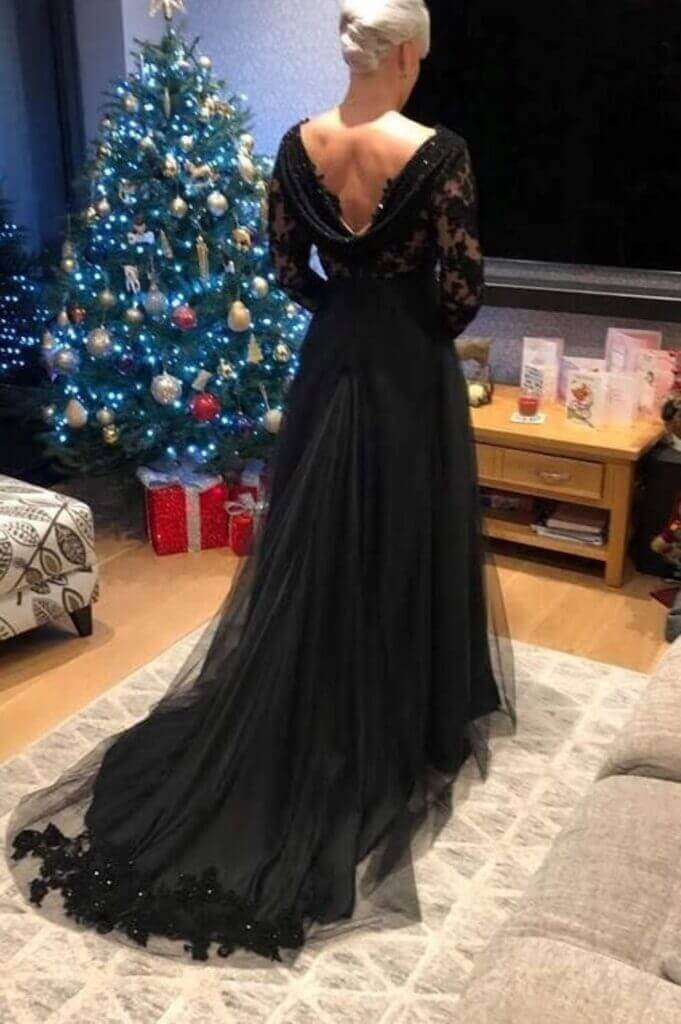 Looking at inspiration for Christmas party ball gown
Kate was looking for inspiration for her special party ball gown but was unable to buy off the peg. Every dress she had seen, and each picture had a dress detail she loved but nothing was exactly what she wanted.
Having heard great reviews from her friends and on the recommendation of her mother in law, Kate arrived for her appointment and we discussed various options for the look she wanted. I could tell she had an eye for elegance and style. Most importantly she liked to look her best and so we went all out to incorporate the design details she wanted without going over the top and remembering less is more.
Fabric sourcing Christmas party style
I have a comprehensive range of fabric stockists to call on, so it was quite easy for me to source lace and other fabrics. As Kate knew she wanted black for her Christmas party ball gown, I was able to find and show her the options. One fabric being this beautiful corded lace P463 and she instantly fell in love with it. So that was sorted. Then we discussed what the skirt fabric should be and having the lace on top she went for a tulle layered skirt over plain black satin, with a slit on the side front seam. She was not holding back on the sexy!!!
Fabric from abroad
I explained to Kate that I'd have to produce the lacy top on a stretchy base fabric. This was necessary due to the top fitting like a glove, with tightly fitted sleeves and the black lace not having any give at all. I ordered some soft stretchy tulle from a supplier in Cyprus. I managed to get a good skin colour match. Pretty pleased with myself.
The details for the stunning ball gown
I started on the top first and had to cut the lace neckline on Kate during a fitting that lasted a couple of hours. To ensure i got a perfectly symmetrical design on her figure. We ended up having button detail on the cuff of the sleeve so the whole sleeve fitted the arm precisely. Kate decided at this stage that she wanted a cowl draping from her shoulders in the back. After discussing which type of fabric to use, I sourced a heavily beaded black Georgette that drapes well from The Berwick Street Cloth shop in London.
The tulle skirt had a beautiful piece of the lace added to the centre back train to float when she made her entrance. I added extra beading to make the train sparkle which looked phenomenal. More photos All in all it made for a stunningly beautiful ball gown which I was very pleased to have made. I intend to make more dresses like this but not quite as detailed for my retail sales line.
Kate wore her bespoke black satin and lace ball gown for the Christmas ball and as you can see from the photos, the dress was a great fit. Here are the fabric suppliers I used for Kate's dress. https://www.michaelsbridalfabrics.co.uk/product/P463-BLACK-CORDED-LACE-BLACK
https://www.carringtonfabrics.co.uk/ https://www.etsy.com/uk/shop/BodikianTextiles?ref=usf_2020
Please ring on 01395 577852 or email [email protected] to discuss any bespoke dresses you would like me to make. https://countycouture.co.uk/